How we invest
We invest £10k-£1m in early stage start-ups, from Seed funding to Series A rounds.
Who we want
Like-minded
digital

entrepreneurs who have the knowledge and drive to

succeed

. Ask yourself three key questions:
Do you have a great idea?
Whether it's being the market maker, or simply finding a way to do things better than the rest. Every business needs an idea and vision at its heart.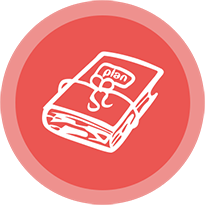 Do you have a plan?
Your company's success will be defined by how well your idea is executed. Understanding how you plan is essential to making your vision a reality.
Do you have drive & knowledge?
Have you got the ambition and experience to put your idea and plan into action? We believe that a business is only as good as the people behind it.
What sectors
We try to invest in sectors we know well, as this allows us to make more informed decisions and puts Ki in a position to offer better strategic advice.
Comparison & affiliate marketing
Being the middle man allows a business to have lower operational costs, higher margins and more budget for acquisition. For these reasons, alongside the flexibility typical of the comparison model, we are highly interested in comparison and affiliate marketing.
SaaS
The internet age has created the software as a service industry. From the simple websites that manage your credit score to apps that allow you to communicate with friends around the world, SaaS is a growing industry and we're determined to be at the forefront.
Digital scaling
If you have an existing digital business that is ready for expansion but need the resource to do so, then let us know. There's merit to fuelling growth in the form of capital and team, and scaling the foundation you have worked hard to lay down.
Anything online
While we prefer to invest in what we know, we are willing to hear out anything digital regardless of what stage you're at. If you have an idea that doesn't fit into any of the above categories, yet is still digital and online, then please still get in contact.
The investment process
It's important that our process is crystal clear to our prospective partners.
1
Send us your proposal digitally ‒ we review within a week.
2
If your pitch is of interest, we'll get in touch for further information.
3
Once we have what we need, and if we like what we see, we'll make an initial non-binding offer.
4
We place everything under the microscope, checking the facts, figures and legalities of the proposal.
5
We agree on a set of closing documents, sign on the dotted line and move forward together!
Is your pitch ready today?
Whether you are at concept phase, have a full-blown business plan that you're itching to pitch, are already generating revenue, or simply want to get in touch, we want to hear from you ‒ right now!