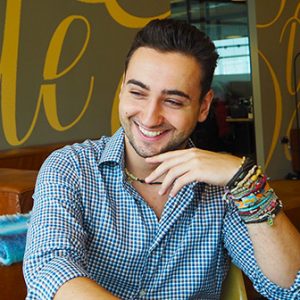 Michael Charalambous
Partner & Co-founder
"He embodies passion in every single piece of work he undertakes, with a meticulous eye for detail and a dogged assertiveness which won't switch off until he's achieved what he wants. I could praise his web management, marketing and business skills endlessly – but I believe his characteristics mean he'll succeed in whatever he does. As an all-rounder who specializes in so much so well, he's irreplaceable."
Born in London, I'm Greek Cypriot, Hungarian, Swiss and Austrian. I'm a kind, open, itchy-feet, worldly character always striving to improve and experience.
I crave and deliver knowledge, a natural born learner and teacher. I am a self motivated, hard working, logical thinker who is passionate about creative direction in brands, unique web design and progressive, thought-provoking marketing.
I like a challenge, I'm no stranger to long hours and relish the opportunity to solve problems.

"Michael possesses a well-rounded skillset. Not only is he a talented marketer, but he has a strong grasp of website design, architecture and user experience, which means he can add value to a website in any niche. I also found Michael to be chatty, personable and very helpful in explaining all things digital."

Sam Miranda, CRO at Investoo Group

"Mike is probably the most talkative guy I've ever known – if he has an 'off' button, I haven't found it! Commonly referred to as 'Chara', he has an uncanny ability to talk passionately about practically any subject. His energy and positivity is infectious. Expect to see him shredding up the dance floor, particularly when Michael Jackson drops. A lover of travel, adventure and meeting new people."

Luke Eales, Founder & CEO at Seven Star Digital

"I have worked with Mike for almost precisely a year. In that time he has been a exceptional manager, imparting valuable skills, maintaining a productive office environment and generally developing myself and my colleagues in every key discipline."

Joseph Attard, PHD